Bethany Horbal, DMD
General Dentist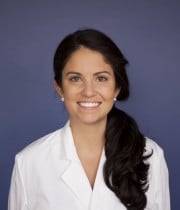 Dr. Bethany Horbal provides a wide range of general dentistry services to adults, teenagers, children, and toddlers as young as one year old. She is friendly and compassionate and enjoys getting to know her patients. She takes the time to talk to her patients about any problems they're having with their oral health, and to discuss the possible treatment solutions that fit their needs and budget.
Dr. Horbal is experienced in all facets of family dental care including fillings, crown and bridgework, dentures, dental implant restorations, extractions, veneers and teeth whitening. She is also skilled at emergency dental procedures including root canal therapy to eliminate toothaches.
Dr. Horbal is originally from Berlin, CT. She earned a Bachelor of Science degree in Biology & Environmental Studies from Fairfield University, earned a Doctor of Dental Medicine (DMD) degree from University of Connecticut, School of Dental Medicine and completed a General Practice Residency at New York Presbyterian Weill-Cornell Hospital in Manhattan. She is a member of the American Dental Association, New York State Dental Association, and the American Dental Political Action Committee.
Dr. Horbal believes in giving back to the community and has volunteered at a pro-bono dental clinic in Hartford, participated in a mission trip to Chile to provide dental care to underserved families and children, and donated her time and skills to the American School for the Deaf, the Give Kids a Smile program, the Healthy Adolescent Smiles initiative in Hartford, and the Collegiate Health Service Corps.
When she's not fixing smiles, Dr. Horbal enjoys tennis, hiking, and sewing. Ask her about some of her latest projects.