Reasons and Remedies for Tooth Discoloration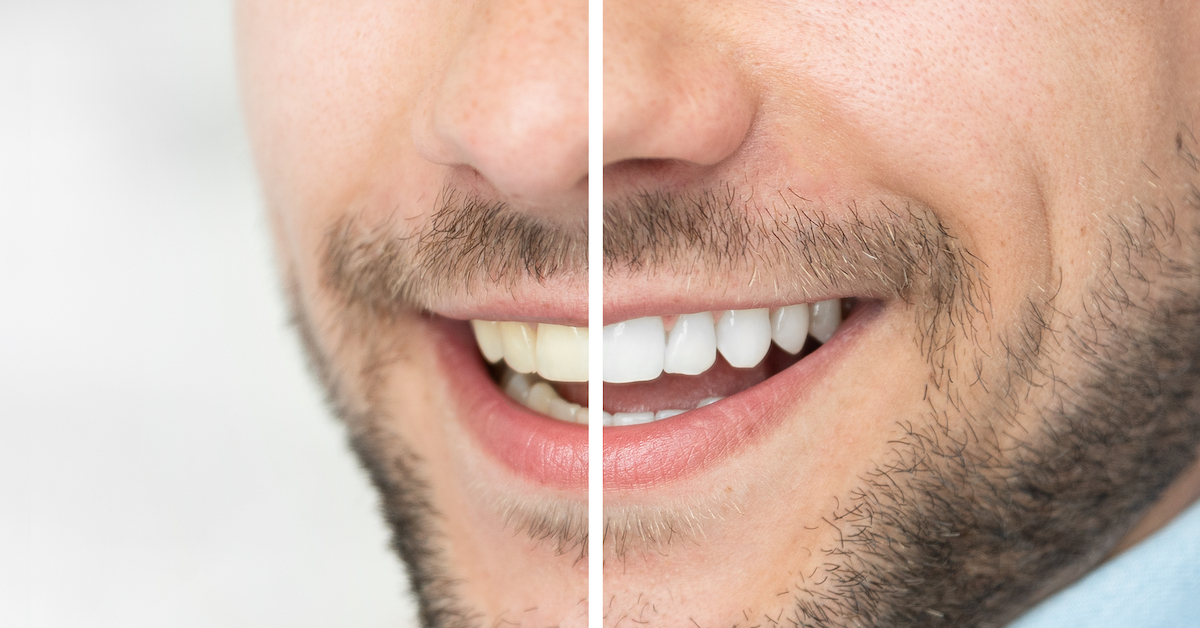 If you smile less because your teeth are stained or discolored, then it may be adversely affecting your self-confidence. Discover easy ways to get whiter, brighter teeth and start smiling again.
Why Are My Teeth Stained and Discolored?
Stains and discoloration to your teeth can be caused by several factors, not all of which are controllable. Diet and lifestyle are within your control, but the aging process, damage to a permanent tooth, side-effects of medications, whether prescription or over-the-counter, and genetics won't be affected by lifestyle and diet.
Does My Diet Stain My Teeth?
Although we all have favorite foods that we enjoy, some of them may also cause tooth discoloration or staining, such as:
Dark-colored drinks: Coffee, tea, colas, and red wine can all leave a residue that will darken your teeth over time. The best remedy is to brush your teeth immediately after consuming them so that the residue doesn't continue to stain your teeth. It will also remove any residual acid that can attack your tooth enamel.
Carbohydrates: Although carbohydrates are some of the tastiest foods we eat, they're not good for our tooth enamel due to the high sugar content that can erode your tooth enamel.
Sugary drinks: Fruit juices and drinks, sodas, energy drinks, and sports drinks are full of sugars and acids that erode your white tooth enamel and make your teeth appear darker.
Sugary snacks: Candy and gum are very high in sugars and acids that aren't good for your teeth.
If you consume any of the above foods or beverages, be sure to rinse your mouth well afterward, or better yet, brush your teeth.
Can My Diet Help Reverse Some of My Current Tooth Discoloration?
Just as some foods can contribute to discolored teeth, some foods can contribute to whiter, healthier teeth, such as the following:
Water: Arguably not very exciting, plain water is nevertheless very healthy for you. Your body is made up of water, so drinking adequate amounts of plain water is a good way to stay hydrated and also to keep your smile whiter. Plain water rinses away food particles, sugars, and acids that remain in your mouth after you eat or drink, so these substances aren't able to erode your tooth enamel.
Sugar-free drinks: If plain water just doesn't work for you, then try sugar-free beverages. Those sweetened with sugar alcohols may actually improve your oral health, and they at least won't make it worse. Be sure to rinse your mouth afterward with plain water.
Cocoa: Although most people don't consider cocoa to be good for your teeth, its anti-inflammatory properties can help you protect against dental caries and gingivitis. This is true for dark cocoa, not milk or white chocolate or chocolate syrup. Rinse thoroughly with water afterward, though.
Dairy products: Dairy milk and cheese are good sources of protein and calcium that can strengthen your teeth and your white tooth enamel.
Flax seeds and fish: Both of these foods are high in omega-3 fatty acids, which are powerful anti-inflammatory substances that can help prevent gum disease. For the best results, balance your intake of omega-3 oils with the appropriate amount of omega-6 oils.
Although none of these may have an immediate, major impact on the whiteness of your teeth, over time, their cumulative effect will be noticeable.
Does Smoking Cause My Teeth to Darken and Stain?
Dentists agree that smoking is the major cause of tooth discoloration. It's also a leading cause of periodontal disease, which can ultimately cause you to lose your teeth.
Does Tobacco in Any Form Discolor My Teeth?
It doesn't matter whether you smoke, vape, chew, or dip. Using any type of tobacco in any form will cause your teeth to become stained and discolored. However, if you persist in smoking despite its side effects, there are ways to whiten your teeth.
Can I Get Whiter Teeth But Not Quit Smoking?
Achieving and maintaining a whiter smile when you smoke will require dedication and diligence, but the following tips can help you in your endeavors:
Use a tooth-whitening toothpaste every day.
Get professional dental cleanings twice yearly.
Always brush your teeth after smoking. This will remove the tar and nicotine residue that will continue to stain your teeth.
Brush and floss a minimum of two times daily, and use an antibacterial mouthwash every day.
Get dental treatment immediately when you need it. Delaying can damage your teeth and make them appear darker.
Which Lifestyle Habits Can Help Reverse Tooth Discoloration?
Just as some foods, beverages, and lifestyle habits can discolor your teeth, some can make them whiter. If you want whiter teeth, whether you smoke or you don't, then the following lifestyle habits may help:
Maintain good dental health. If you need dental work, don't procrastinate because that can further damage your tooth enamel.
Use at-home whitening kits. Although they're not as fast as a professional treatment, they can be done at your convenience. Be aware, though, that dental caps and fillings may not whiten the same as your natural teeth.
Get regular professional whitening treatments. Professional treatments are faster and more effective than at-home kits, and since they're administered by a professional, your teeth will be more evenly colored. Some dentists provide at-home kits that use the same products they use in their offices, so ask your dentist about their professional at-home kits.
Use a tooth-whitening toothpaste.
Ask your dentist about dental crowns or veneers to cover areas that don't respond well to whitening efforts.
You don't have to suffer with dull, discolored teeth that keep you from smiling and enjoying life. There are many options that will enable you to have the white teeth you want and still enjoy your favorite things in life.
What Lifestyle Habits Will Prevent Tooth Discoloration?
Your dentist is the best source of information for methods to achieve and maintain beautifully white teeth. Make an appointment today to discuss your objectives and lifestyle and learn the best methods for achieving whiter teeth.