Posted under:
Root Canal
Posted on: November 20, 2020
Invisalign: Frequently Asked Questions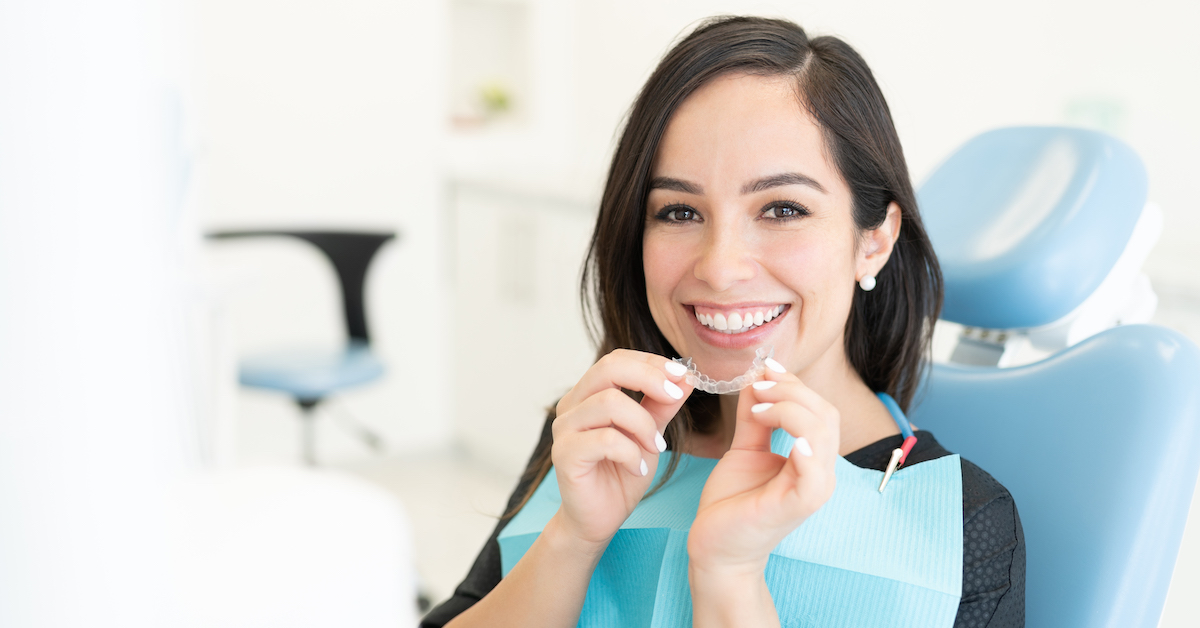 Straight teeth make for a nice smile. If you feel self-conscious about your smile, you have another option besides braces with brackets and wires that stand out. Invisalign's clear aligner trays offer a discrete way to correct a variety of orthodontic issues. If you want to learn more, keep reading or call our dental practice to schedule a consultation.
What Are Invisalign Clear Aligner Trays?
The Invisalign system is an alternative to braces with brackets and wires. It uses clear aligner trays instead, which are switched out every two weeks. Each tray moves the teeth slightly closer to the desired position. The custom trays are removable for eating and teeth brushing, but otherwise, they are worn 22 hours a day. Invisalign's aligner trays are clear and fit snugly, so they are inconspicuous. Treatment can take anywhere from six to 18 months, although one year is the average length of treatment.
Invisalign is a brand name of clear aligner trays. Our dentists have completed an Invisalign training course so they can offer this highly effective treatment option to our patients. We believe Invisalign has superior technology and they use premium materials to fabricate aligner trays compared to other companies.
Who Qualifies for Invisalign?
Invisalign is becoming versatile and today it can treat most cases of crooked teeth, gaps and bite problems. There are still severe cases which only metal braces can treat, but these situations do exist and may even require headgear. Disciplined adults and older teens whose teeth have all come in and whose jaws have stopped growing are usually good candidates. To decide if Invisalign is a good choice for you or your teen, ask yourself the following questions.
Do I have the discipline to wear my aligner tray for 22 hours a day?
It's temping to leave the tray out for more than just eating and teeth brushing and flossing. You can take them out to have your picture taken, but you can't leave them out for a date or to attend a three-hour event.
Are you ready to brush your teeth more than you ever have before?
Every time you eat a meal, have a snack or drink anything but water, you have to take the aligner out, brush your teeth and then put the aligner back in. You'll need several travel toothbrushes, so you always have one with you.
Can you keep track of your aligner?
If you're the type of person who always loses their keys, you may want to think twice about Invisalign's aligner trays. Dentists assume patients will lose one or two throughout their treatment, but it can become expensive, and delay your treatment, if you repeatedly leave them laying around and forget where you put them.
Invisalign isn't just for people who want to correct cosmetic issues. Misaligned teeth can cause a variety of dental issues. Crowded teeth are difficult to clean, increasing your risk of gum disease or decay. They can also cause speech problems and make chewing difficult.
How Do I Start Invisalign Treatment?
If you're interested in Invisalign, you need to see a qualified Invisalign dentist for a consultation. He or she will examine your teeth and jaw to determine if the aligner trays can correct your issue and give you the smile you want. You'll learn how the treatment works and how long it will take. Please call our office if you would like to book a consultation.
When you start Invisalign treatment, your dentist will make a digital impression of your teeth for the lab. A technician will create a series of aligner trays for the course of your treatment. Once they're complete, your dentist will get you started.
You'll return every one to two months to get new aligner trays, but you'll use every set of aligner trays for about two weeks each. Your dentist will also make sure your teeth are shifting according to your treatment plan.
Will Aligner Trays Disrupt My Life?
Invisalign's aligner trays don't require you to change too much of the routine of your daily life.
You have to take the trays out to have meals and snacks, except for clear liquids. Once you're finished, you must brush your teeth and rinse the tray off before putting it back in. This keeps plaque and bits of food from getting trapped against your teeth and helps prevent decay. You'll have to take a travel toothbrush with you to school, work, the mall or wherever you go where there's a chance you'll be eating. It's a little bit more work than you would have with braces, but being able to eat what you want more than makes up for it.
Your oral care routine is basically the same except you'll be brushing more since you need to brush your teeth every time you put your trays in your mouth. Brushing after every meal is a good habit to get into.
You have to wear your aligner trays 22 hours a day. This may seem easy, but it takes discipline. Since the trays are removable, it's very tempting to take them out for a date or important meeting. This is fine as long as you keep track of the time they are out. Remember, if you don't wear them, they won't work!
What Happens After I Am Done With My Aligner Trays?
Teeth will remember their original, comfortable position and drift back if you don't wear a retainer after your Invisalign treatment ends. A retainer will protect your investment in time and money, so we urge our patients to wear them. You can get a comfortable retainer that closely resembles the Invisalign trays, so it isn't obtrusive.
Do Dentists Offer Invisalign?
Most dentists provide braces, but not all offer Invisalign. Only dentists, like ours, can offer Invisalign since they have special training in its use. Call to arrange a consultation and to learn if Invisalign can correct your misalignment issues. We offer personalized care throughout the process and post-treatment as well. Start your journey toward a straighter smile today.