Causes of Bleeding Gums and Gum Disease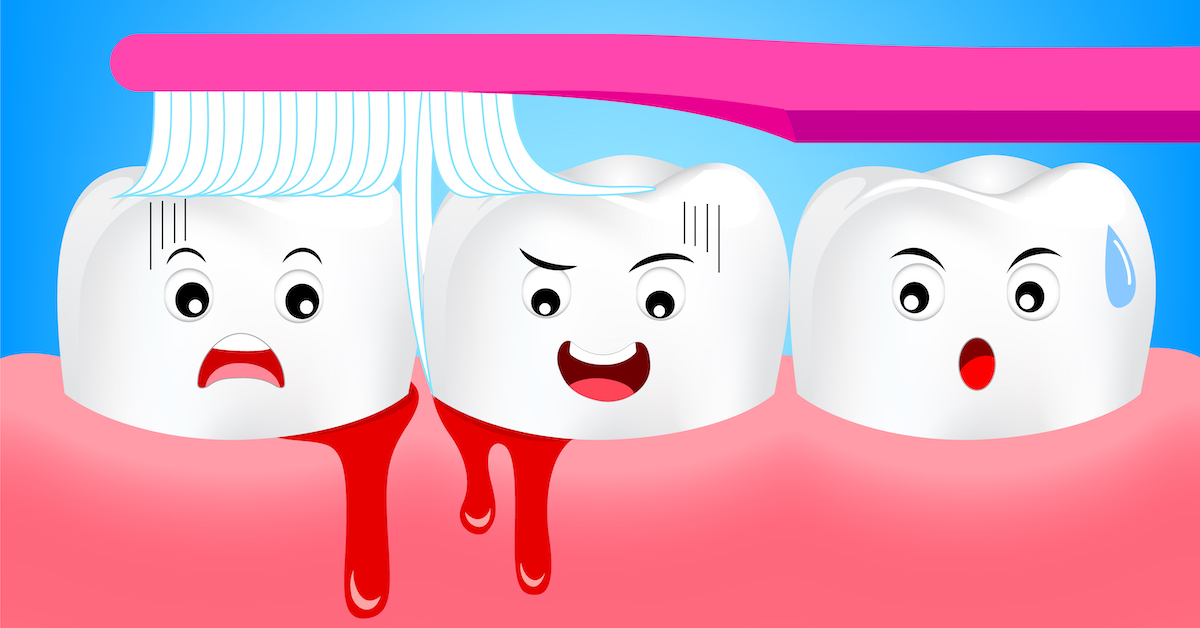 Are You Prepared to Fight Against Gum Disease?
Occasional bleeding of the gums may not be a sign of a serious dental problem, or it may be a sign that you've entered the early stages of gum disease! Beware! Gum disease is the leading cause of tooth loss in adults. Which is very scary, but it's also entirely preventable. Also referred to as gingivitis, periodontitis, or periodontal disease during its varying stages, gum disease is a serious problem that can result in the loss of teeth and other damaging illnesses and physical conditions. Don't risk losing your teeth or damaging your gums. Learn everything you can about gum disease to make sure it doesn't happen to you.
The Damage of Periodontal Disease on Your Health
Each of the names given to gum disease refers back to a specific condition that is caused by the build up of bacteria in the mouth. Bacteria are responsible for producing plaque, which is a sticky and filmy substance that adheres to teeth and gums. Plaque is produced when bacteria break down foods and liquids in your mouth. It is acidic and attacks the enamel of teeth and the tissue of your gums. This causes inflammation that, when left untreated, can result in the breakdown of tissues, interior structures and bone tissue in the interior of your gums and the roots of your teeth.
Over time, the deterioration of these tissues results in loosening of the teeth and the eventual loss of teeth due to the destruction of the ligaments, tissues and bones that hold them in place. This can result in embarrassing gaps in your teeth that can reduce your confidence in your smile and can have a real impact on your bite.
While we'd like to say this disease is far from common, it's not. Unfortunately, over 75 percent of America adults and over 65 percent of teenages have some form of gum disease. Now you might be thinking that because it's common it's easy to know when you have the disease? No.
Only about 15 percent of those that have gum disease even know they have it. The best way to make sure you don't develop this condition or allow it to progress, is to learn as much as you can about the disease, what causes it, what the symptoms are and how you can avoid it. Since it starts with gingivitis and red, swollen gums, start there by making sure you're brushing and flossing regularly to avoid gingivitis.
Do You Have Any of These Symptoms of Gum Disease?
Some of the most common symptoms of gum disease include the following signs:
Red or swollen gums
Painful or itchy teeth and gums
Bleeding from the gums after flossing or brushing
Loose teeth
Bad breath, especially if it persists after brushing
Pockets of infected materials around the gumline
Intermittent bad tastes in your mouth
If you are currently experiencing any of these symptoms, it is important to seek dental care immediately to prevent gum disease from progressing. While these issues may seem minor, they can add up to big problems for you. It could mean long, painful and expensive trips to the dentist to replace teeth lost to gum disease. Taking steps to address gingivitis can sometimes reverse the effects of this condition. During the later stages, however, it may only be possible to slow the progress of this condition and its impact on your teeth and overall dental condition.
What Causes Gum Disease?
The factors that determine who will develop gum disease are numerous and varied. Since about three out of four adults in the United States will eventually have some form of periodontal disease, there may be multiple reasons that you or your family members will develop this issue. Some of the most common factors for the development of gum disease include the following:
Genetics: A genetic predisposition to developing gum disease is present in about 30 percent of all patients who have gum disease. In this case, your dentist can work with you to remain diligent in preventing the diseases progression.
Lack of proper dental care: Most of the patients who develop gum disease do so because they do not practice good dental hygiene at home and may not seek regular dental treatment with a qualified dentist. The key to preventing gum disease is a robust, proper dental care routine.
The use of tobacco products: Smoking can injure the delicate tissues of the mouth and may be a contributing factor in developing periodontitis. Smoking and chewing tobacco introduces toxins that inhibit the body's ability to fight off bacteria.
Illnesses and medical conditions: Patients who have medical conditions that suppress their immune systems have a much higher chance of developing periodontitis than those with healthy immune systems. This can include things like diabetes, cancer, and HIV.
Medications: Certain medications, including anti-angina and anti-seizure drugs, are implicated in a higher risk of periodontal issues because they cause dry mouth. Dry mouth means there isn't enough saliva to wash away the bacteria that causes gum disease.
Facts About Chronic, Aggressive and Necrotizing Periodontitis
Periodontitis is what you'll get if you don't take care of your gingivitis. At this point in the disease, there are pockets between the teeth and the gums where bacteria and plaque are attacking the supporting structures of the teeth. This leads to the gums breaking down even more and the teeth and jawbone degrading. It's safe to say at this stage tooth loss is highly likely, and most of the damage is irreversible.
There are several different kinds of periodontitis you can get.
Chronic periodontitis is slow moving, but still results in the gums and supporting tissues becoming inflamed and damaged. There is a slow progression of damage to the ligaments and the supporting structures of the teeth.
In some cases, a highly aggressive form of periodontal disease can attack otherwise healthy people. Known as aggressive periodontitis, this condition moves much more rapidly and invasively than the chronic form of periodontal disease most commonly found in our patients.
Necrotizing periodontitis is usually found in patients with suppressed immune systems. This condition causes tissue death and can be life-threatening in some cases. Working with your physician and dentist to address this issue is critical to ensure that you stay as healthy as possible and that you retain your natural teeth for a longer period of time.
Preventing Gum Disease
Brushing and flossing regularly and reducing your dietary intake of sugars and starches are among the most effective ways to lower your risk of periodontal disease. Making regular appointments with and affordable dentist in Shelton can also provide added protection by ensuring that the early warning signs of gingivitis and periodontitis are spotted early. Don't wait to become a statistic, start treating your teeth and gums with the proper care they deserve. It can mean the difference between a toothless smile and a bright, healthy one.