Posted under:
Root Canal
Posted on: January 21, 2023
At Huntington Family Dental Group, We Offer the Whole Package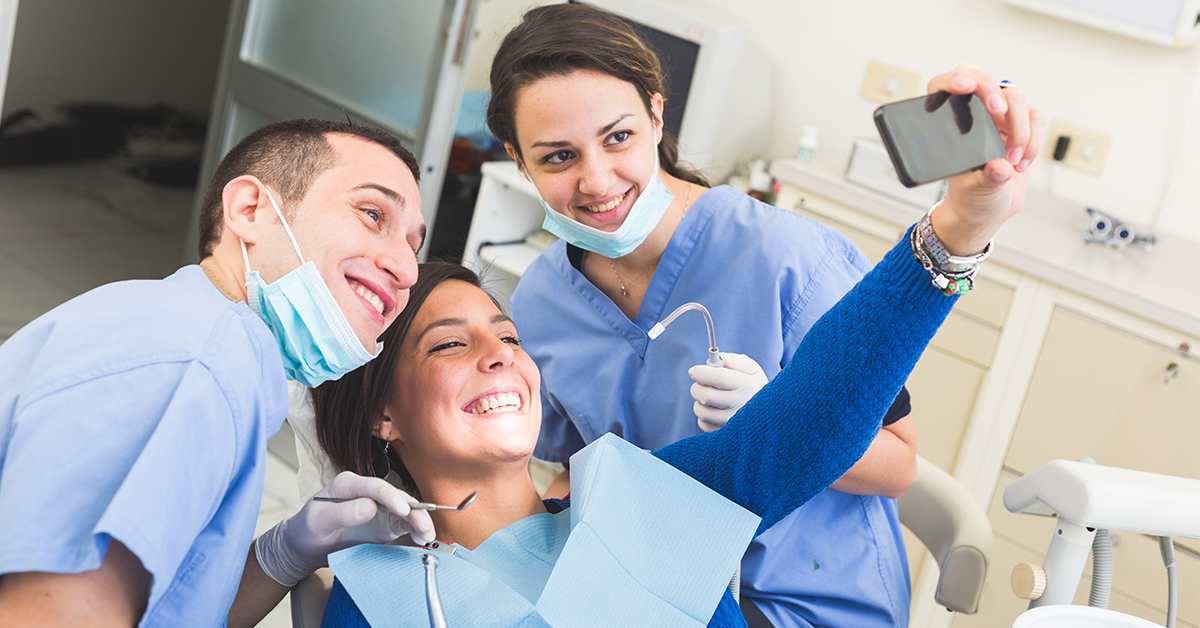 Going to the dentist does not have to be a cause for stress or anxiety. If you find the right dentist, it can be like going to see a trusted friend with a skill set that can help you keep your smile beautiful for life. And, at Huntington Family Dental Group, that's precisely what we offer.
A proper dental education is the least you should expect from your dentist. Beyond that, however, you should also expect or, even, demand from your dentist the following:
Care for Your Comfort
A dentist shouldn't just care for your mouth; they should care about you as a whole person, and that includes your comfort. Your dentist and dental office staff should make sure you feel comfortable and safe from the time you enter the waiting room until the time you leave the office. And if, like many people, you have dental anxiety, just let us know about it and we'll do everything in our power to put you at ease throughout your time with us.
That includes a calm, clean and relaxed office environment. It also includes making sure that all exams and procedures you receive in the office are as pain-free as can be. Our dentists won't rush through your care to get you out of the chair; rather, they will take the time to be gentle and careful with everything they do. Your dentist will also make sure the entire office staff treats your comfort with the same high prioritization.
Another part of ensuring your comfort in our Shelton dental office is keeping an open line of communication with you throughout your visit. That includes the dentist explaining the equipment they're using and procedures they're performing each step along the way. It also includes closely observing you and listening for your signals that something is causing you pain or unusual discomfort, so they can pause, provide some relief and/or adjust their actions. Your dentist will also clearly explain your aftercare and preventative care to take from home, so whether you're recovering from a procedure or simply practicing daily hygiene to prevent a cause for future procedures, your dentist will help ensure it's a comfortable process that helps you avoid unnecessary discomfort.
Constant Communication
At our dental office, your dentist will hear and answer all your questions as well as ask plenty of questions of their own and listen closely to your answers. This is the only way your dentist can provide you the personalized care you need and not just some generic, all-purpose care that doesn't recognize you as the unique individual you are.
We know full well that you didn't attend dental school, so we know that what we practice can seem strange and alien-and even scary–like so much of the unknown. So, what we do is make the unknown known by explaining your care to you in a way that you can understand and that doesn't talk over you or condescend to you. We'll also be candid with you, however, so you understand clearly the circumstances and potential risks you're facing and what options are available to you to protect you from them. And, as long as it's not an emergency situation, we'll even give you the time you need to consider your options before committing to a course of treatment or care.
Respect
Your time and money matter tremendously–to you and us. That's why we take pains never to squander or take advantage of either one.
Dental offices can be busy places, and appointment schedules can get behind now and again. That's why we make sure to space our appointments far enough apart to allow for this possibility. This is especially important to allow us to take the necessary time with each patient to ensure they feel fully respected and cared for before they leave. Our dentists make the same commitment that you do to show up promptly for appointments.
Our office also respects your hard-earned money and won't take advantage of it. We'll only give you treatment options we feel you need, and we'll always present the most affordable option along with the more expensive ones. If a complex, expensive procedure isn't necessary, however, your dentist will always recommend a simpler, less costly one.
Follow-ups
A good dentist isn't just a Band-aid; to a good dentist, you're not just a "one and done." Rather, a good dentist values a long-term relationship with you as a patient-from appointment reminders and follow-ups to regular oral cancer screenings to updated X-rays to making your family members who accompany you to your appointments feel welcome and comfortable.
A Clean Office Environment
To trust that a dentist can help you keep your mouth clean and healthy, you need to see that the dentist can maintain a clean and sanitary dental office. When you sit back in a dentist's chair and open wide for someone to reach in with their fingers and metal objects poking and prodding around, you want to know that chair, those fingers and instruments and the whole room in which you sit is spotless and germ-free. After all, one of the easiest places for germs to enter your body is your mouth. That's why we exceed dental industry standards in the cleanliness of our office.
Pediatric Dentistry
And, our services also include pediatric dentistry for the kids, so whether you're scheduling an appointment for them or bringing them with you to one of your own, you'll find we adore children and go out of our way to make sure they feel safe, comfortable and welcome here.
Call Now to Meet Your New Dentist in Shelton
In all, a quality dentist worth your time, money and trust is experienced, courteous, compassionate, respectful, communicative and trustworthy. At Huntington Family Dental Group we provide all of these qualities to all our patients. So, give our dental office in Shelton a call now to schedule a visit with your new–and improved Shelton dentist.